..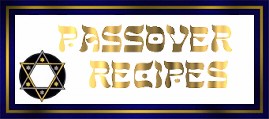 My thanks to Louie Volpe of "Holidays on the Net"
for permission to use these recipes

Menu
Gefilte Fish From a Jar
Passover Hot Dogs
Chicken Soup
Matsoh Balls
Broccoli Knishes
Mandelbrodt
Fruit Casserole
Chocolate Matso Torte

GEFILTE FISH FROM A JAR

Recipe by Elaine Radis (auntie_e@prodigy.com)
Yield: 6 servings
1 lg Jar gifilte fish; good brand
1 bn Beets
1 bn Carrots
2 lg Onions
Pepper; lots
Salt; to taste
1. Take a large jar (at least 8 pieces but I usually do 12 ). Buy a good brand.
2. Get your veggies ready; slice the carrots, beets and onions. Layer in a heavy stock pot, the beets (my Bubbe's secret ingredient), pieces of fish, onions, carrots and seasonings; repeat as many times as is necessary with EVERYTHING but the beets.
3. Pour the liquid from the jar over the fish and then bring to a boil. Turn down as simmer for about 45 minutes. Cool, remove from liquid and serve.

PASSOVER HOT DOG ROLLUPS

A Jewish version of "Pigs in a Blanket" for Passover! Recipe by Andrea Herrera" (Andreah@utj.org)
1/2 Cup oil
1 Cup water
2 Cups Matzah Meal
1 tsp salt
1 Tablespoon Sugar
4 eggs
12 Frozen Kosher L'Pesach Hot Dogs
Combine oil and water in a saucepan. Bring to a boil. Add dry ingredients. Mix well, until mixture pulls away from side of pan. Remove from heat. Mix for 5 minutes, then add eggs one at a time. Mix for another minute. Divide into 12 portions. Shape the dough around each hot dog. Bake in a 325 degree oven on a greased cookie sheet. Bake until hot dogs are sizzling and rolls are done.

CHICKEN SOUP

4 to 5 pound chicken
3 quarts cold water
1 cup carrots, cut into chunks
4 celery ribs
I onion, quartered
2 cloves, whole
2 peppercorns
1 bay leaf
Salt to taste
Few springs fresh dill
Wipe or rinse chicken. Cut the chicken into two or four pieces depending on the size of the pot. Cover with water and bring to a boil. Add carrots, celery, onion, cloves, pepper corns, bay leaf, and salt. Simmer for 2 hours, skimming occasionally. Strain the soup and cool. Refrigerate until yhe fat rises to teh top and can be seperated from the stock. Bring the stock to a simmer again (add knaidlech/matzoh balls if desired) and heat for 15 or 20 minutes. Season to taste. To serve, pour soup into individual bowls, garnish with snipped dill.

MATSOH BALLS (KNAIDLECH)

3 eggs
3 tablespoons chicken fat
1/2 teaspoon salt
3 tablespoons hot water or chicken soup
3/4 cup matzoh meal
Separate the eggs. Beat the yolks until light colored and thick. Add the chicken fat, which should be at room temperature, and the salt and water or soup. Beat the whites until stiff but not too dry. Fold in. Fold in the matzo meal. Refrigerate the batter for about I hour, or until batter is thick enough to form balls. Drop the balls carefully into 2 quarts of boiling salted water or hot soup. Cover and cook for 25 minutes. Add Matzoh Balls to soup. Cook for another 15 or 20 minutes in the soup.

BROCCOLI KNISHES

From the Passover Lite Kosher Cookbook. (See below)
1 cup mashed potatoes
1/3 cup matzah meal
2 tbsp. potato starch
1/2 small onion, finely chopped
2 egg whites or 1/4 cup Passover egg substitute
1/2 tsp. black pepper
1/4 tsp. salt
1 cup fresh or frozen broccoli, steamed and finely chopped
Cooking spray
Preheat the oven to 375 degrees. In a bowl combine the potatoes, matzah meal, potato starch, onion, egg whites, pepper and salt and knead together. Divide the dough into 6 balls and flatten each. Divide the broccoli evenly onto each circle, fold over, and press edges to seal. Generously coat a baking sheet with the cooking spray. Arrange the knishes in a single layer and place the baking sheet on the bottom rack of the oven. Bake for 15 minutes on each side. Serve hot. Serves 6.
Calories - 82; Saturated fat - 0 g.; Total fat - 0 g.; Carbohydrates - 15 g.; Cholesterol - 0 mg.; Sodium - 124 mg.

PASSOVER MANDELBRODT

Recipe By : Nina Block/Barry Freidfertig
Serving Size : 36
2 cups sugar
1/2 lb margarine
6 eggs
2 3/4 cups matzo cake meal
1/2 tsp salt
3/4 cup potato starch
6 oz chocolate chips
1 cup walnuts -- chopped
1 tsp cinnamon
2 tsp sugar
Mix the smaller amount of sugar with the cinnamon and set aside. Cream sugar with the margarine. Add eggs one at a time, beating thoroughly after each one. Sift together cake meal, salt and starch. Fold into creamed mixture. Add chocolate and nuts. Mix well. Form into 3 loaves, about 2" wide. Sprinkle with the sugar/cinnamon mixture. Bake on greased cookie sheets for 45 min. at 350 degrees

FRUIT CASSEROLE

BY THE AUTHOR: "I first came across this recipe as a low-cholesterol concept for Pesach cooking. My family loved it, but I found it horribly sweet. Because the dried fruits are themselves so sweet, I think the sugar can be cut to 3/4 cup; even a 1/2 cup. My guess is that the oil could also be cut to 3/4 or 2/3 cup. Other fruits also can be substituted. I used dried pears, for example, when I couldn't find pineapple."
1/2 cup dried apricots
1/2 cup prunes
1/2 cup dried pineapple
1/2 cup raisins
3 apples, pared and sliced
9 egg whites
1 cup oil
1 cup sugar
1 cup fine matza meal
Cinnamon
Put the apricots, prunes and pineapple in a bowl. Pour boiling water over them to cover and let stand for at least one hour. Drain. Add the raisins and sliced apples. Beat the egg whites, adding sugar gradually, to a stiff meringue. Add the oil and matza meal. Mix gently but thoroughly. Fold the batter into the fruit. Transfer to an oiled, glass baking dish (about 12" x 15"). Sprinkle with cinnamon. Bake for 45 minutes at 350 F/160 C.

CHOCOLATE MATSO TORTE

It is truly amazing how creative we can be when denied flour. But after all, as we approach the end of the 20th century, we know that it is truly chocolate that counts, not flour. After all, we can live a week without bread, but a week without chocolate?
4 medium eggs, separated
1/2 cup (125 grams) sugar
1/2 lb (1/4 kilo) blanched almonds, grated finely
1/2 cup (125 grams) cocoa
1/2 lb (1/4 kilo) raisins
1/3 cup (80 grams) Matzo Cake Meal
1/4 cup (60 ml) fresh orange juice (not from concentrate)
1/4 cup (60 ml) white wine
Beat the sugar and egg yolks until very light. Add the almonds, cocoa, raisins and Matzo Meal. Mix well. Add the orange juice and wine and mix again. Beat the egg whites until stiff and fold in to the mix. Pour into a spring form pan and bake for 1 hour at 350 degrees F (175 degrees C).